Main content starts here, tab to start navigating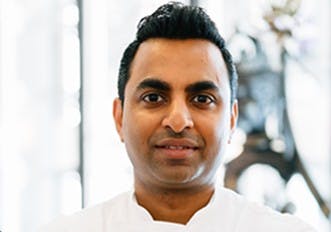 Chef AJ Thalakkat
Executive Pastry Chef
Leading the Pastry Shop at Fairmont Empress is no small feat, especially when the iconic hotel's Afternoon Tea serves freshly prepared scones and tea pastries to over 80,000 guests per year. Chef Ashish (AJ) Thalakkat welcomed the challenge in early 2014, when he joined the Empress culinary team as Executive Pastry Chef.
Hailing from Scarborough, Ontario, Chef Thalakkat's love for science and art drew him into the challenging world of pastry. His culinary career began after earning his diploma in Hotel Management, Catering Technology and Applied Nutrition from the Institute of Hotel Management and Catering Technology, India. Chef Thalakkat has also spent time as a culinary instructor at Humber College, mentoring the students of the Advanced Bakery and Pastry Course. His passion is hydrocolloid cooking (molecular gastronomy) and displaying his amazing sugar and chocolate creations.
Constantly pushing his limits and creativity to new levels, Chef Thalakkat has challenged himself competing in various high-level show piece competitions. Chocolate being his favorite medium to work with, he often takes inspiration from nature to create masterful sculptures showcasing the versatility of textures and flavours that are possible.
Outside of work, Chef Thalakkat enjoys spending time with his family and on the other passions in his life; nature, art and photography. Most weekends he can be found hiking with his son, taking in the beauty of Vancouver Island's lush forests and trails.